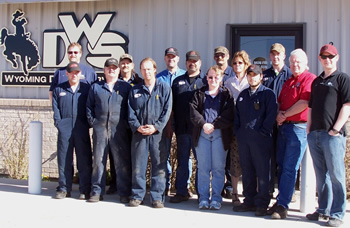 Wyoming Diesel Service in Rawlins, WY employs the brightest minds in the industry. People like you. We offer a broad range of employment opportunities along with competitive compensation, excellent benefits, and a great work environment. Join our team and start your career. 
---

Full Time Service Truck Technician
Rawlins, WY
We need a motivated person who is knowledgeable, experienced and team-oriented. Must have clean Class C Drivers License.  Will work in shop also.  WDS offers great pay, incentive programs and training.
POSITION:  ENTRY LEVEL MECHANIC
To interact with employees and customers in a cheerful and professional manner while performing complete truck servicing, including minor engine, drive train and electronics repair.
VALUABLE FINAL PRODUCTS:
Properly repaired vehicles
Customer satisfaction
Accurate record keeping of all documents
Strong billable hours
DUTIES:
Continuous employee and customer interaction
Proper use of lifting equipment and the physical ability to lift and support 100lbs
Use of proper trouble shooting techniques and making proper repairs
Researching technical information using manuals, computer, internet and with help from service manager
Always working as a team player and having pride in work
Using CAT, CUMMINS and DETROIT electronic diagnostic tools
Documenting needed information including vehicle, inspection, trouble shooting and repair steps made during all repairs.
Respecting company supplied tooling and shop equipment
Attending on and off site training as provided and required. On site training will be documented by the employee.
Road testing vehicles to aid in trouble shooting and to verify that the customer's complaints have been corrected
Reworking any problems found by service manager during his final inspection
After hours telephone coverage on a rotation with other employees
Road service calls
Arriving to work on time ready to work
Attending weekly meeting to review production and problem areas
All other tasks as requested by your supervisors
Download or call for an application.  Thanks for your interest in employment at Wyoming Diesel Service. Call: (307) 324-5144