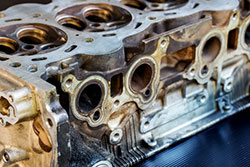 Our mission here at Wyoming Diesel Service is to get you back on the road as quickly as possible. Whether you are hauling freight across country or on a RV adventure with your family, getting you back on the road as quickly as possible is our number one priority. We do not sell trucks or RVs, we repair them. If you are stranded on I-80 or 287, we provide roadside assistance.Call: (307) 324-5144
Our engine repair services vary from a minor issue like an electrical issue, ECM problems, or be as major as overhauling the entire engine. Once an engine has enough miles, the engine fails. That's an unavoidable fact about diesel engines. When that happens, and it will eventually happen, an engine overhaul is in order. Typically, if it is an in-frame rebuild, where the engine is left in the chassis, these typically take about one week or about 5 working days to complete. If an out of frame engine overhaul is in order the time frame is closer to 7-8 days. Our mission is to get you back on the road as quick as possible.
We perform any and all diesel engine repair services for our on-highway freight hauling drivers as well as RV customers. If it is as simple as your check engine light is on, or your engine is knocking terribly bad and oil is all over the highway, we can help you get back on the road with everything repaired.
Wyoming Diesel Service is a certified Cummins engine repair shop as well as a certified Cat engine repair shop. Accordingly, our inventory is based around Cat and Cummins engines. If we find that we do not have the part to fix your specific engine problem, please know that because of our relative isolation here in Rawlins, surrounded by long stretches of I-80 on either side, that ordering and receiving a part takes a little time. To hit this issue head on and provide the best solution possible for our customers, we have long established relationships with suppliers in Denver and Salt Lake, and will get the part delivered as quickly as possible.
If you have read this far and you are in need of diesel engine repair services within a 100 mile radius of Rawlins Wyoming, STOP! Call: (307) 324-5144Your engine is not getting fixed by reading these words. Give us a call and we will get you repaired and back rolling as quickly as possible and with a 6 month or 50,000 mile workmanship warranty. We stand behind our work, to keep you on the road.
FULLY SERVICED Cummins Engines:
4BT 3.9
6BT 5.9
6CT 8.3
ISB CM2150
ISB CM550
ISB CM850
ISB6.7 CM2350 B101
ISC CM2150
ISC CM554
ISC CM850
ISC8.3 CM2250
ISL CM2150
ISL CM554
ISL CM850
ISL9 CM2250
ISL9 CM2350 L101
ISM CM570
ISM CM875
ISM CM876
ISX CM570
ISX CM870
ISX CM871
ISX15 CM2350 X101
Isb6.7 Cm2250
Ism Cm570/870
Isx12 Cm2350 X102
Isx12/Isx11.9 Cm2250
Isx15 Cm2250
L10 CELECT
M11 CELECT PLUS
N14 CELECT
NH/NT 855
QSL9 CM850
Qsl9 Cm554
FULLY SERVICED Caterpillar Engines:
1140
1145
1150
1160
1674
1693
3116
3126
3176
3208
3306
3406
3408
C-10
C-12
C-15
C-16
C11
C13
C15
C7
C9
FULLY SERVICED Detroit Engines:
60 Series
DD13
DD15
DD15 TC
DD16