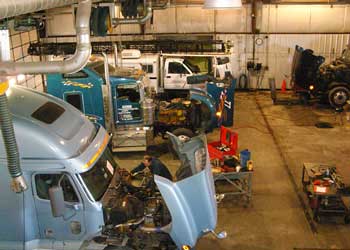 When it comes to RV or general diesel truck repair, we can help fix any issue from your front bumper to rear cross member. This includes clutch replacement, transmission replacements, drive train issues, brake work or even air system work. Call Us: (307) 324-5144Call us today to get your truck fixed. Reading the rest of the description of what we do, does not fix your truck. Getting your truck inside our shop gets you back on the road as quickly as possible.
Freight is time sensitive, and you are not making money when sitting in our shop. We have sculpted our business around getting you back on the road as quick as possible.
General RV repair
General RV repairs are repairs to the RV chassis. We do not fix any issues related to the livable space in an RV.
---
Our family owned and operated business is something we take pride in. We respect your time, and will make the safest most efficient decisions needed to get you back behind the wheel. To set expectations clearly, we have outlined some of our common services and provided the typical time to completion. For most of these issues, you can count on it taking most of the day unless you get in after noon in which case your truck will be ready the following day. We provide safe and timely repairs.
Clutch replacement
With clutch replacements, we can complete the replacement in one day. If you get in at noon it will run into the next day.
Transmission replacement
Transmission replacements usually take 1 day to complete, and will most likely take some of the following morning if you arrive later than noon.
Drive trains
Fixing issues with your drive train are commonly solved in a single day, but can, at times, be something that requires more work the following day if you rolled in passed noon.
Differentials
Work on differentials takes the better part of a day, typically, and may be something that requires work the following day if you pulled into the shop in the afternoon.
Brake Work
Brake work can be a quicker fix, and typically does not require more than a few hours, but there are exceptions to most every rule.
Air system work
Air systems work can include a large system on your truck, and the typical times of completion for air system work varies depending on the parts we have in stock.
---
Getting your truck back on the road is our mission, but one of the main challenges we face is our isolation. At times, we find ourselves having to source from Denver or Salt Lake. We do not sell trucks, only fix trucks. Most of our customers live off their work on the interstate, and time is valuable.
Call Us Now: (307) 324-5144