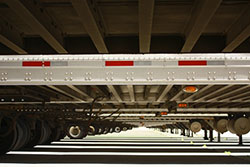 Is your Tractor Trailer Stuck on I-80 or 287? Get Reliable Trailer Repair Service to Save Yourself Losses.Call: (307) 324-5144
Trailer repairs can range from brake related wheel bearing failures, to ruined axle shafts, reefer repair or simply fixing a leaking seal. We can fix all of these issues on the roadside, or at our shop.
---
If you are in the transportation business, you perfectly know how crucial it is to have moving vehicles on the road. Even while keeping to safe driving practices on I-80, or on any highway, trailers can at times develop minor or major problems. When this happens, as a driver, you want the problem fixed as soon as possible to get your vehicle back on the road. Time spent waiting for repairs is money lost.
A simple vehicle breakdown caused by a flat tire or minor electrical problem can cost you dearly. That is why reliable trailer repair service is crucial. While some repairs can be done on the road side, others may require a trailer to be hauled to a repair shop to be attended to in detail. Continue reading to learn more about trailer repairs, or give us a call so that you can get moving as quickly as possible.
How timely repairs can save your business losses
Transportation business requires efficient and safe movement of goods and other items to their destination. So, mechanical problems can not only lead to accidents, but also cost the business in downtime; a lot of hours are lost in seeking repair services.
Repairs such as tire replacement, brake system, air system, or electrical malfunctions may cause prolonged downtime. An hour you spend on the road waiting for a mechanic to conduct repairs is money lost. Seeking the services of a reputable mechanic can save you a bundle in terms of money by quickly diagnosing the problem and repairing the trailer.
Emergency onsite road assistance repairs
Your trailer can breakdown when you least expect somewhere on the highway and sometimes in the middle of the road. In such situations, you will need emergency repair service for speedy repair.
It takes a team of mechanics with a long-standing reputation to provide the type of emergency services that most efficiently gets trailer owners get back on the road. We have the necessary equipment, parts, and years of experience to understand the nature of trailer repair issues to be able to respond and fix in a timely manner.
Shop-based trailer repair solutions
Not all tractor trailer malfunctions can be handled on the roadside. Minor issues that can be corrected on site may be handled pretty effectively, but for major mechanical issues, you may need the trailer to be hauled to a repair shop for specialized diagnosis. Tire repair, oil leaks, air systems repairs, braking system repairs, and vehicle electrical system can be handled on the roadside.
However, if a major problem has occurred that needs a detailed diagnosis or rebuilding of parts, it might mean that the vehicle has to be towed to a repair shop for proper examination. Regardless of whether it is a minor repair that can be handled onsite or a bigger issue that requires towing of the trailer, the ability to get the vehicle back on road fast squarely depends on the kind of service offered by the trailer repair company you hire. Call us now, and get moving again.